Swedish Spoon Carving
Green Woodworking
About
Spoon carving is quickly becoming one of the most iconic green woodworking projects in the world today and rightfully so. Folks find themselves seriously addicted to spoon carving, always chasing the perfect design. The subtle curves and fairly strict design requirements make this a great project for both the beginner and the experienced.
With an inspiration base rooted in the rural country woodworking traditions from Sweden and Scandinavia called slöjd, carvers mainly use an axe and a knife. We will focus not only on the simple forms of spoons, but a refined aesthetic that blends a deep understanding of the nature of wood and its characteristics as well as the tools and techniques used to create them.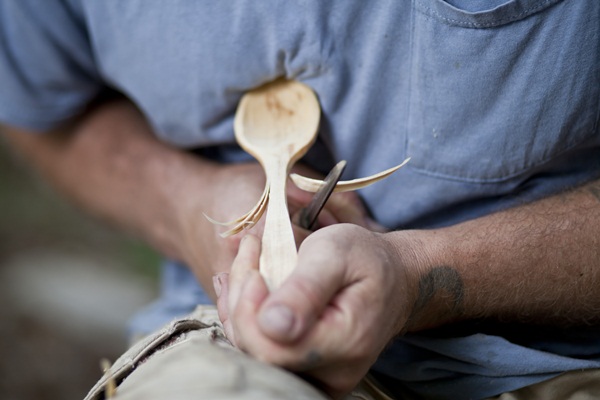 Class Description
In this two-day class participants will learn how to carve freshly harvested greenwood with simple and effective tools, the axe and sloyd (craft) knife. We'll begin by demonstrating the process of converting whole logs into rough blanks using wedges and the carving axe. Then, we'll focus on learning some traditional knife grips while carving simple projects like chopsticks, spatulas, or butter spreaders. By the second day we'll be carving spoons with the knowledge and skills gained. Proper knife techniques as well as fine workmanship will be stressed.
Throughout the class there will be short lectures, demonstrations and guided practice sessions such as; where to acquire, how to care for and sharpen your tools, refining your technique with the knife and axe, and understanding wood grain, design and how to treat your finished woodenware. All skill levels welcome.
Tools
All tools and materials will be provided.
Prerequisites
Please note this course is open to all levels, but requires a basic amount of hand strength, stamina, and focus to be able to complete the projects listed. Being able to open a sealed jar is an example of basic hand strength.
Class Information and Registration
Class starts at 9:00am on the first day in Building 315.
Please read our What to Expect page for general information about the School.
Please also read our Registration Policy.
Class size: 10
Cost: $300
Materials Charge: $ 30
When you click on the Register link you will be able to register for the class or, if the class is full, sign up for the wait list.