About
These are pictures of two of the six Gypsy Wagons ("Vardos" in the Romany language) built by Jim Tolpin. The Ledge Style was built in the mid-eighties and the Bow Top version was completed in 2007. It was shrink wrapped and shipped by Fedex from Port Townsend to upstate New York!
Gypsy Wagons are the ultimate cozy home on wheels; it's like traveling back in time to a beautiful place where one finds joy in life pared down to the basics. Port Townsend instructors Jim Tolpin, Steve Habersetzer and Greg Kossow have all built (or are building) wagons and there are at least three other woodworkers in the area who have built one!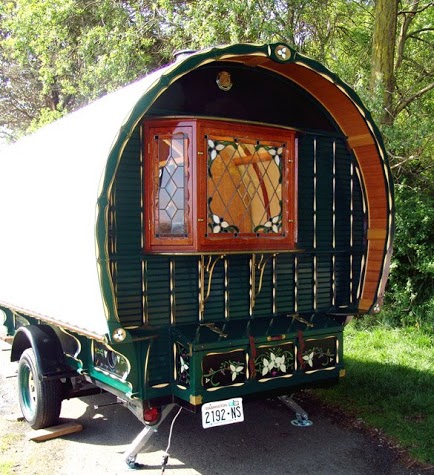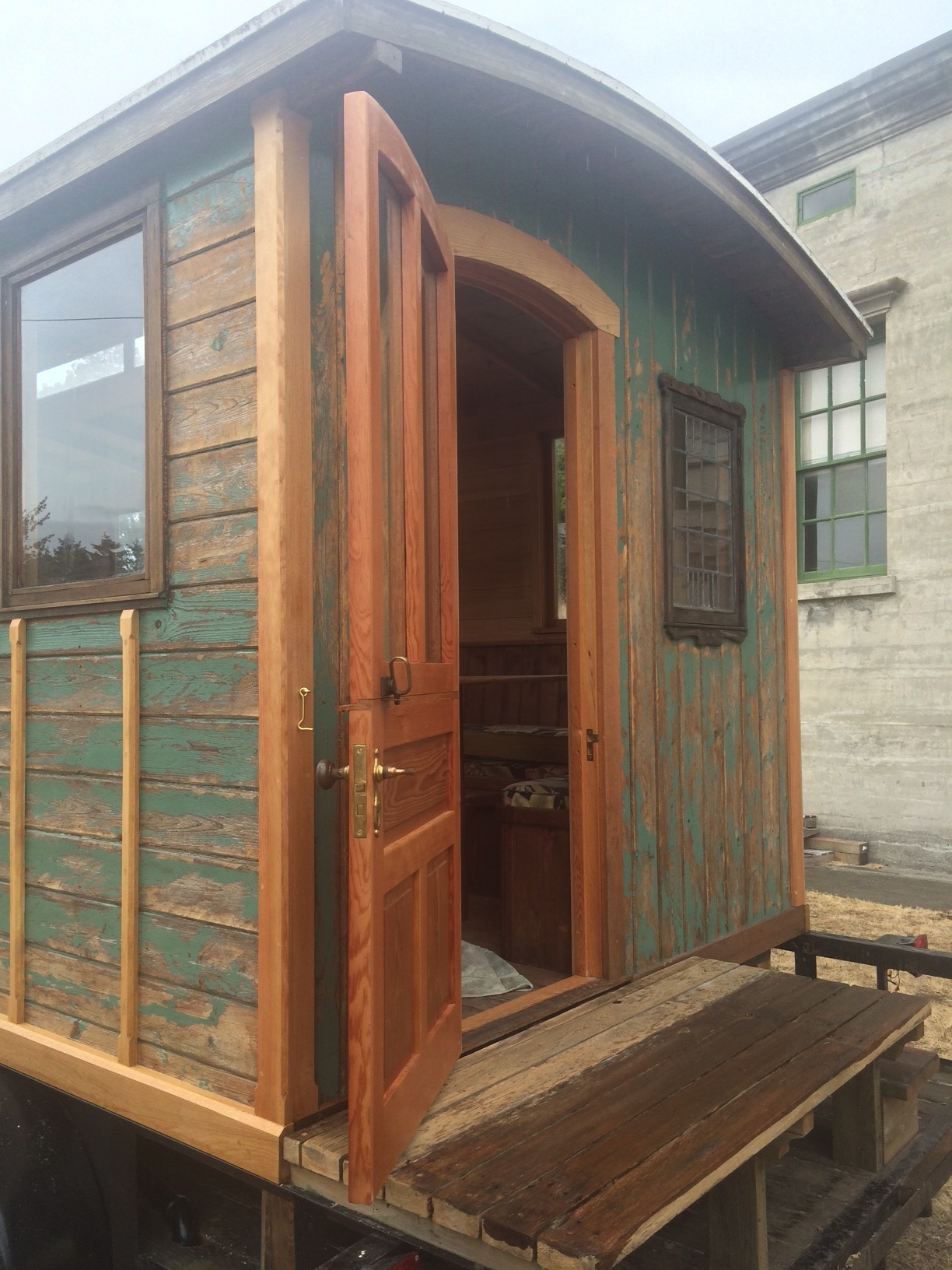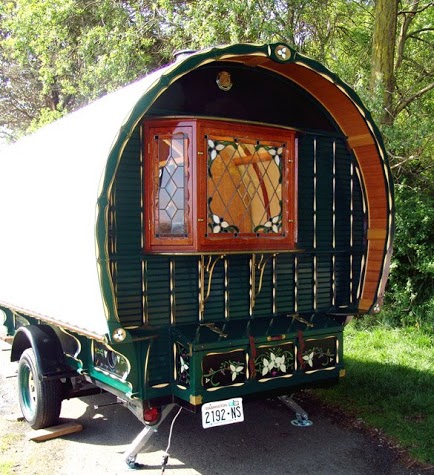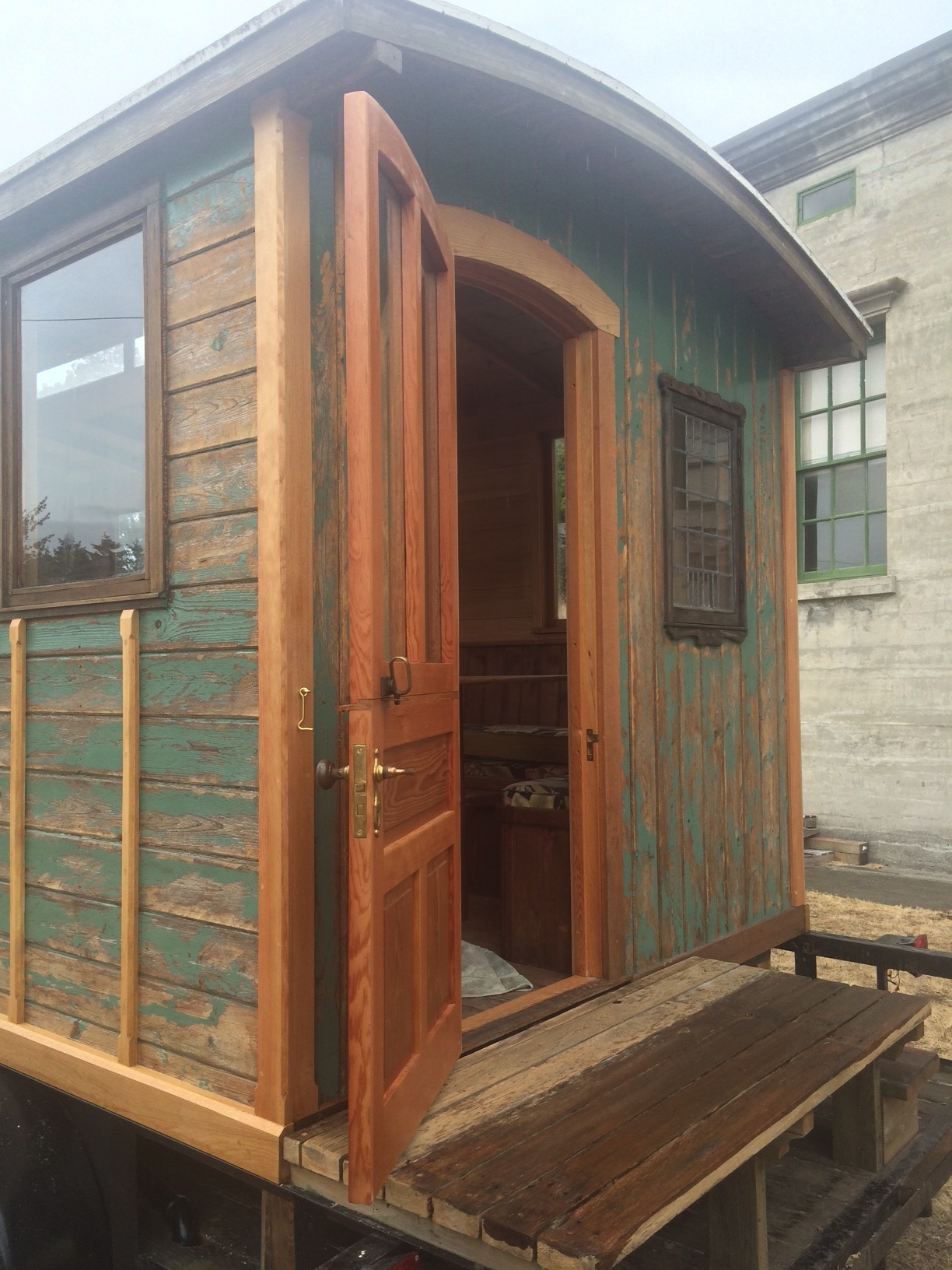 Warning! Warning Will Robinson! Building a highly detailed Gypsy Wagon is a long process. It took Jim Tolpin more than 2000 hours over several years to build his last wagon. However, a simpler version can take less than half that time.
In this course our instructors will share the tricks and techniques that they have learned; this will make your learning curve much shorter. Steve is the main instructor for this class. Greg Kossow will assist.
Class Description
In this three day class we will explore how the late 19th century, English-made "Living Wagons" (called "Vardos" by the Roma)—were designed, built and used. You will discover how modern design and construction techniques can be used to create a wagon that will be enchanting and cozy, yet roadworthy for travelling at modern highway speeds. You will design your own wagon from concept sketches to preliminary working drawings.
The Core Skills:
Designing a suitable chassis frame and running gear
Wheel size, number and placement
Building strong, weatherproof floors, walls and ceilings
Plywood versus traditional solid wood frame construction (both are viable options, though each have pros and cons)
Making attractive, but sturdy and weather-tight, doors and windows
Creating traditional carvings and decorative details
Designing and building the interior built-in cabinetwork
Bending hoops and working with canvas (for Bow-top versions)
Designing electrical and plumbing systems
Installing heating systems
Painting and varnishing
Outfitting the wagon for the road
What our students say...
"I was impressed that the class was not just a step by step mountain of information, but had aspects that challenged my thinking process and made me consider all of the design aspects that are important to me."
"From this class I feel empowered to make informed decisions about my next project."
Tools
No tools are required for this class. Bring a notebook or sketch book and camera.
Prerequisites
There are no prerequisites for students taking this course other than having a passionate interest in learning how to create the most cozy and lovable living space one could ever hope to spend some time in—on the road or in the garden!
Class Information and Registration
Class starts at 9:00 am on the first day in the Seminar Building #297.
Please read our What to Expect page for general information about the School.
Please also read our Registration Policy.
Class size: 15
Cost: $ 425
Materials Charge: $ 10
When you click on the Register link you will be able to register for the class or, if the class is full, sign up for the wait list.