Formline: NW Coast Design
About
In this intensive, two-day workshop we will dissect the northern formline style. We will observe how by working from the inside out using the calculated placement of negative design forms, one can learn to construct richly complex, positive-formline designs such as those that have served to cover the surfaces of boxes, chests, Chilkat weavings, large partition screens, house fronts and myriad smaller objects.
Class Description
In Bill Holm's landmark 1965 book: Northwest Coast Indian Art: An Analysis of Form (still in print after nearly 50 years! The new full colour second edition came out in early 2015) Holm successfully analyzed the artistic conventions of northern Northwest Coast native art and provided a working nomenclature for design elements and structures that's still in service today.
The distinction 'northern' Northwest Coast art is an important one because the art style described in that book, and upon which this weekend workshop will focus, is the product of the most northern cultural groups; Tlingit, Haida, Tsimshian, Haisla, Heiltsuk, and Nuxalk.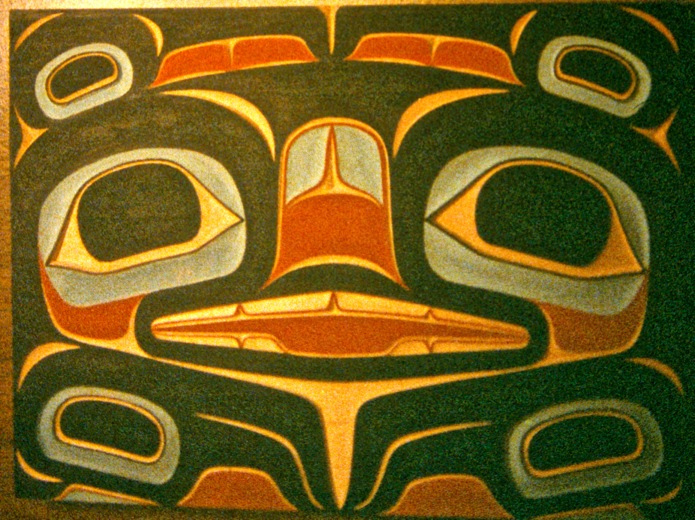 Farther south along the coast, the Kwakwaka'wakw, Nuu-chah-nulth, Coast Salish, Makah, Chinook and others all produced their own indigenous art styles, some of which, such as that of the Coast Salish and Chinook, are in fact much older than the mature northern-coast formline style, and appear to have served as the conceptual foundation on which the forms, structures, and conventions of the essential northern coast style developed over a thousand years ago.
The northern coast style has greatly expanded and elaborated on this basic positive/negative manner of composition, though the essence of the original foundation has remained the same: It is the negative aspect of design that, as in the older styles, determines the form, character, and flow of the positive, painted formline elements and cohesive structures.
This foundation itself was built on a system of positive and negative design forms, in which the negative forms, those that are carved into the surface, determined the form, character, and flow of the positive aspect of design, that which we would refer to as the design image itself.
During the class you will explore the details of the different designs and develop your own design(s).
Tools
No tools are needed for this class. Please bring a sketchpad, ordinary and colored pencils.
Prerequisites
Class Information and Registration
Class starts at 9:00am on the first day.
Please read our What to Expect page for general information about the School.
Please also read our Registration Policy.
Class size: 15
Cost: $ 250
When you click on the Register link you will be able to register for the class or, if the class is full, sign up for the wait list.