Introduction to Digital Design
Weekend
About
Taught by Randy Johnson of Shopbot Tools, this two-day weekend course offers woodworkers, builders and makers at all levels an introduction to the programming and operations of a three-axis CNC (digital) router.

"Although not a replacement for all woodworking tools and techniques, CNC has become a complementary tool for many woodworkers. Considering the popularity of handheld routers and the ever-present template, the CNC adds a new level of control and repeatability. This is largely due to its ability to cut shaped parts without the need for a template, guide or fence. When using a CNC, there is little penalty for design complexity. However, as with all making, the craftsmanship/artistry (choice of tools and materials, and execution of techniques), the aesthetics, and the utility of a piece are all determined by the head and the hands of the maker. Choices not tools determine the final quality.

In practical terms the advantages of using a CNC may simply be ones of getting the job done quicker and at a saleable price point - whether is roughing out a set of Windsor chair seats, or router chip carving 100 jewelry box lids. Beyond its practicality, the CNC also provides a exciting opportunity to explore new ways of making things. Many are difficult to create any other way. The wavy stepped scarf joint for boat-building or panel connections is a perfect example. It's extraordinarily useful for aligning and joining to panels, yet complex but easily cut with a CNC router." RJ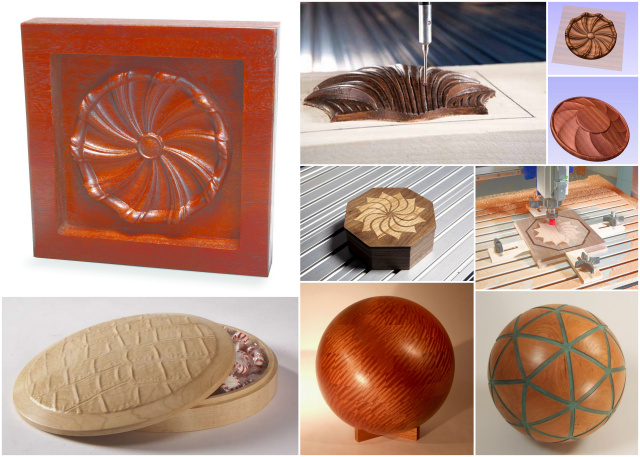 Class Description
This class is for those new to CNC, at a beginning level, or in need of refresher. Through a series of structured lessons and small projects, students will explore some core CNC design and machining techniques, including CAD, cutting file creation, tool operation, and material holding techniques. As part of the process, students will create their own designs for these projects and use the CNC to cut them. No prior CNC experience is required. There will be three Desktop CNC machines available for student use.
Topics covered will include:
CNC design software and techniques
CNC Set up and calibration
Programing CNC tool paths
2D and V-carving cutting
Router bit selection
CNC Project idea
And as time allows
Tools
Students are required to bring
* VERY IMPORTANT*
Tools provided by the school
Hearing and eye protection
Full version of Vectric design software
CNC routers (ShopBot Desktop)
Router bits required for class projects
Prerequisites
This course is open to woodworkers, builders and makers at all levels and interests. Wood will be the primary material cut during the class, but the design and machining techniques covered in the class can also be applied to other materials such as plastic, aluminum and foam.
Students should preload the trial version of VCarvePro Design software and watch the "Getting Started" and "The Basics" tutorial videos prior to attending class.
Class Information and Registration
Class starts at 9:00am on the first day.
This class takes place in Building 304 at Fort Worden - not the School Building. Map
Please read our What to Expect page for general information about the School.
Please also read our Registration Policy.
Class size: 10
Cost: $ 300
Materials Charge: $ 30
Register By: July 11, 2015
When you click on the Register link you will be able to register for the class or, if the class is full, sign up for the wait list.