Build a Chisel Cabinet
Joinery Essentials
About
This 5 day course with Matthew Straughn-Morse combines dovetail carcass construction, frame and panel door construction and an introduction to drawer making.
This class is intended for the hand tool woodworker who is ready to bring together dovetail and mortice and tenon joinery to create this handsome shop fixture. The course will be fast paced and it should not be the first time you've cut a dovetail or a mortice and tenon joint!
We provide you a kit of pre-dimensioned stock so the class instruction will focus solely on joinery and construction techniques. This design is easily adaptable to be a medicine chest or curiosities cabinet.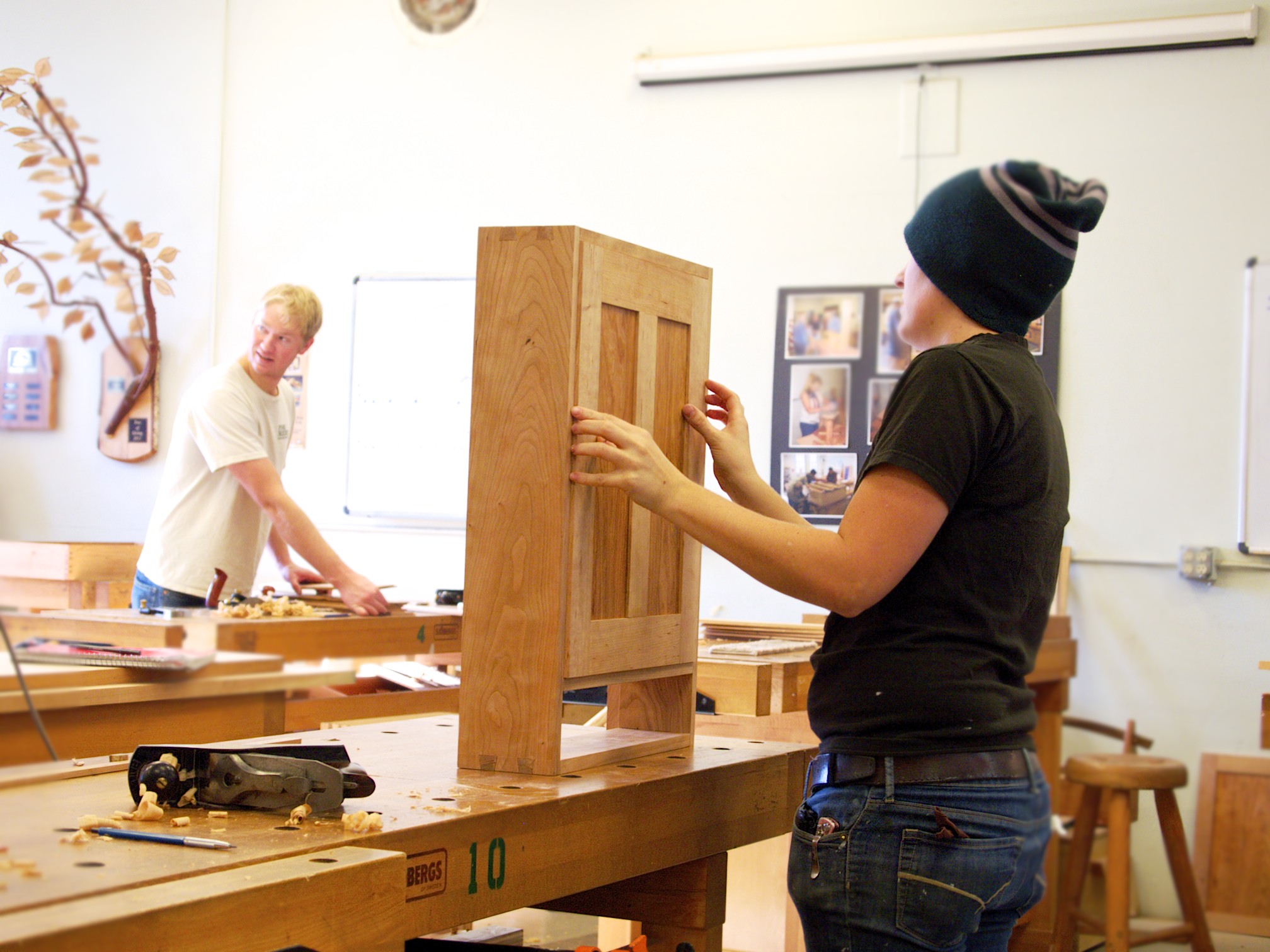 Class Description
The Chisel Cabinet is designed to teach you to use a wide array of hand tool joinery techniques. We'll demonstrate rabbeting techniques but the carcass panels will be pre-rabbeted.
Layout and cut dovetails
Use dadoes to mount the shelf
Layout and cut mortise and tenon joints
Raise a pair of panels for a frame and panel door
Mortise and install hinges
Install a knob and catch
Install back panels
Install a french cleat
Tools
If you have started to build your own set of hand tools we encourage you to bring them along to the class so that you can deepen your experience with them and work with the instructors to tune and fully understand them. Please see our What to Expect page if you plan to ship your tools to the school. Otherwise you are welcome to use the high quality hand tools at our fully equipped workbenches.
Prerequisites
Students should have experience with hand tools and some familiarity with hand tool joinery. You should have had instruction and / or experience in laying out and cutting dovetails or mortice and tenon joinery.
We recommend the Hand Cut Dovetail and Hand Cut Mortise and Tenon weekend classes or Joinery 101.
Materials Charge
The kit includes dimensioned parts, hinges, knob and door catch and all fasteners.
Class Information and Registration
Class starts at 9:00am on the first day.
Please read our What to Expect page for general information about the School.
Please also read our Registration Policy.
Class size: 10
Cost: $ 850
Materials Charge: $ 200
When you click on the Register link you will be able to register for the class or, if the class is full, sign up for the wait list.